BCH Oakland research administration has migrated to the UCSF infrastructure as BCH Oakland physicians integrate into UCSF faculty. Research administration follows PI institution and UCSF PI status.
Where Do I Go for Grants Support? Grants Administration Decision Tree
Research Administration Decision Tree on one document (UCSF login required).
UCSF Sponsored Project Administration Contacts
PRE-AWARD SERVICES
Funding opportunities (Federal and State)
Budget development
Proposal submission
Sub-awards
Offices to Contact:
To search for assigned OSR staff by Department/Division and/or Sponsor/Agreement type: https://osr.ucsf.edu/find-my-support
CLINICAL TRIAL ACTIVATION
OnCore Build
Coverage Analysis
Clinical Research Billing
For general inquiries, please email [email protected] or call 415-514-4998. For budget creation and negotiation services, calendar build, and/or coverage analysis, please complete the OCTA Intake Form (Clinical Trials Activation Request Form) and refer to the Sponsor.CRO Accelerated Activation Packet.
POST-AWARD SERVICES
Award Setup and Modifications (renewals, NCE, etc.)
Speedtype and chartstring setup
Compliance monitoring
Financial verification
Financial status reporting
Contact: For UCSF Post-Award inquiries, all emails should be sent to your respective Research Financial Analyst (RFA). If you are unsure of your Research Financial Analyst, contact your UCSF Department Manager.
For additional information, contact UCSF Contracts & Grants Accounting via Email: Contracts & Grants Accounting (CGA).
Work Orders - Streamlining Budgeting and Accounting
We are pleased to share streamlining efforts related to budgeting and accounting processes for UCSF faculty conducting research at BCH Oakland.
Information on pre-award: proposal development, budgeting, award set-up, and how to initiate work orders and post-award: managing budget and spending, managing payroll, financial reporting and invoicing, award verification, and close-out, can be found in the BCH Oakland RSA Training Materials. (will be updated July 2023) 
Job Aids (Available Only to UCSF Internal Users, VPN Required)
For additional information about conducting research at Oakland or historical sponsored projects in BCH Oakland's name, please email MLK Post Award.
Clinical Research Data - OnCore
With BCH Oakland's integration to UCSF Health's electronic medical record system APeX, BCH Oakland has also adopted OnCore.  OnCore is UCSF's enterprise clinical trials management system (CTMS). 
For more information about trial activation in Oakland, please refer to the Sponsor.CRO Accelerated Activation Packet.
APeX Research Training Requirements and Resources
APeX e-courses and APeX training classes can be found here.
The APeX Knowledge Bank - Research Website can be found here.
Facilities and Administration (F&A)
Facilities and Administration - F&A – Indirect rates – What is it for?
According to Uniform Guidance: For major nonprofit organizations, indirect (F&A) costs must be classified within two broad categories: "Facilities" and "Administration."
"Facilities" is defined as depreciation on buildings, equipment, and capital improvement, interest on debt associated with certain buildings, equipment, and capital improvements, and operations and maintenance expenses.
"Administration" is defined as general administration and general expenses such as the director's office, accounting, personnel, and all other types of expenditures.
F&A Explained
UCSF produced a marvelous video that explains this complex issue in an easy-to-grasp way. It's well worth the five minutes to watch!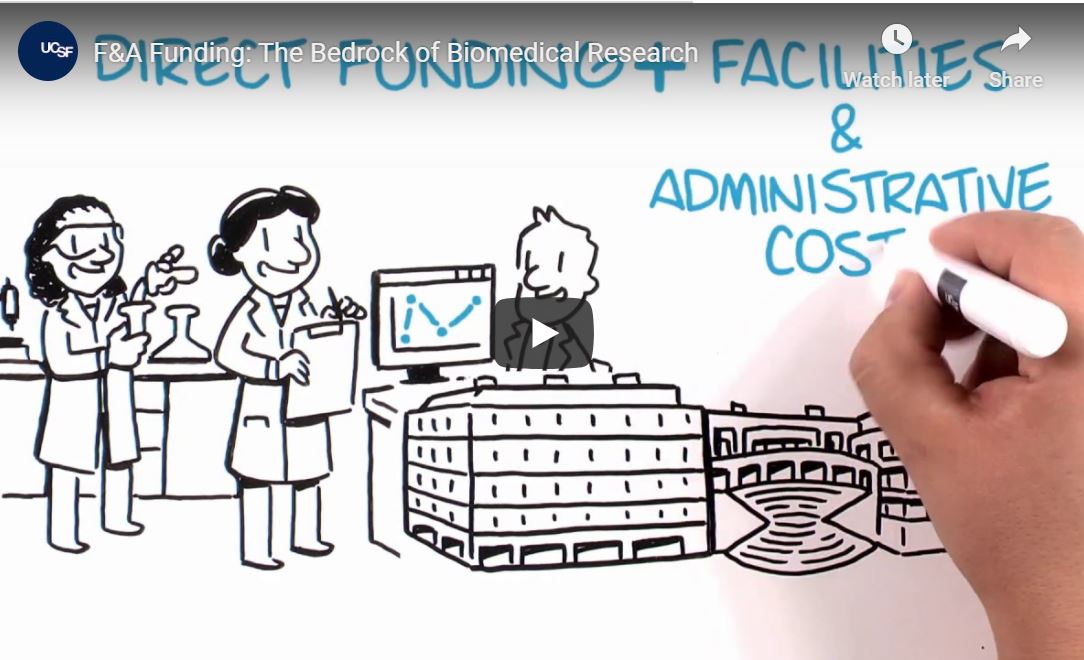 Dean Talmadge King's overview as part of his Dean's Forum series
BCH Oakland Dean's Office Newsletter – August 2020
NIH Grant Preparation - Facilities summary for the MLK Research Building:
Recovery of Facilities and Administration (F&A) expenditures is vital to our ability to perform our research, and how these dollars are utilized to further support the research mission is among the most commonly misunderstood aspects of a research institution. In the current federal climate and as recipients of these funds, it is imperative to take the time to understand F&A most often referred to as indirect costs, or in the private sector as overhead.
UCSF prepares and negotiates rates for UCSF. This rate negotiation is very important not only because the federal government is such a significant source of F&A recovery – providing $196 million of our total recovery of $252 million last fiscal year (2018-19) – but also because these F&A rates are used for many industry-funded contracts as well.
In November 2017, UCSF announced the new rates for the next five fiscal years, or until the next rate agreement is approved. The key item in the agreement is the on-campus organized research rate increased from 58.5 percent to 61.5 percent this year.
The University of California, including BCH Oakland, requires full F&A cost recovery. The University applies its negotiated F&A rates to all extramural awards received from all categories of sponsors for research, instruction, and Other Sponsored Activities. Uniform Guidance requires full F&A recovery on Federal support including flow-through funding. Only those Federal programs that are statutorily authorized to reimburse less than the Federally negotiated rate are exempted. If a sponsor's published policy mandates a lower F&A rate, an indirect cost exception (waiver) must be obtained. Office of Sponsored Research will assist with the waiver process. Principal Investigators and other administrators are not delegated this authority nor are they authorized to negotiate with or to accept reduced indirect cost rates from any sponsor. Generally, waivers are only granted for written and verified sponsor policies.
It's still very challenging to put together all the resources to cover our basic infrastructure needs. Unsurprisingly, San Francisco has the highest federal F&A rates in the UC system, reflecting the higher costs of supporting research here due to both the intensive scientific work we do and the higher cost associated with our location in the San Francisco bay area.